[:en]
I went to Sagalund on August 22th. There are many old style building (from18century-19century) such as a school and a house. These buildings have been moved to here from different places in Kimito Island. Mr. Kujala guided me to Sagalund park.
The second picture is an old school. In the past, students use a board of stone to write words. And, they use rabbit's tale to clean up.
Left side room of this school is schoolmaster's room. The third ne is old style kitchen.
The fourth picture is old house poor people lived. Compared with house rich people lived, this house is small and dark.
I found small bed. I hear that people who lived here sat sleeping. It is surprising.
This is Villa Sagalund. It was built here and consists of two separate dwellings. The wall color was so beautiful.
Flowers have bloomed in the green garden. The wall of Villa Sagalund is red. Also, that day was good weather and blue sky. So, I could see beautiful color contrast.
SAGALUND is interesting place because I could know the old style lives of people.
There are a lot of nice and quiet place in Kimito Island. I can spend relaxed time there.
Thank you Mr. Kujala for guiding me.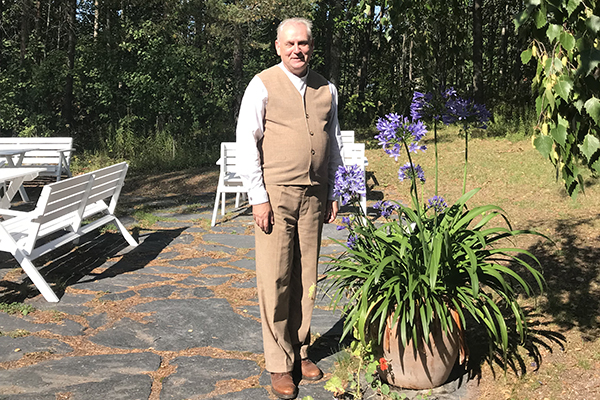 [:ja]
8月22日に、SAGALUNDという展示館を訪れました。
18世紀から19世紀のキミトにあった家や学校などを移してきて、展示しているそうです。
ちょうどガイドのJarmo Kujalaさんがいらっしゃったので、案内していただきました。
まず、古い学校を紹介してくれました。石でできたノートを使い、うさぎの毛で消していたそうです。先生の居住スペースも同じ建物にあります。昔のキッチンがありました。
4枚目の写真は貧しい人々が住んでいたという家です。お金持ちの人々が住んでいた家と比べると小さくて暗いです。ベッドはとても小さいものでした。ここに住んでいた人は座ったまま寝ていたそうです。驚きです。
これはサガルンド邸で、唯一この展示館で建てられた建物だそうです。二つの居住空間に分かれています。中の壁の色もとても鮮やかできれいです。この日は天気がよく、青い空と赤い壁と緑の庭の色のコントラストがとてもきれいでした。キミト島の昔の生活の様子を知ることができるおもしろい場所でした。
キミト島には、静かで落ち着ける場所がたくさんあります。ここでものんびりした時間を過ごせました。最後に案内してくださったJarmoさん、ありがとうございました!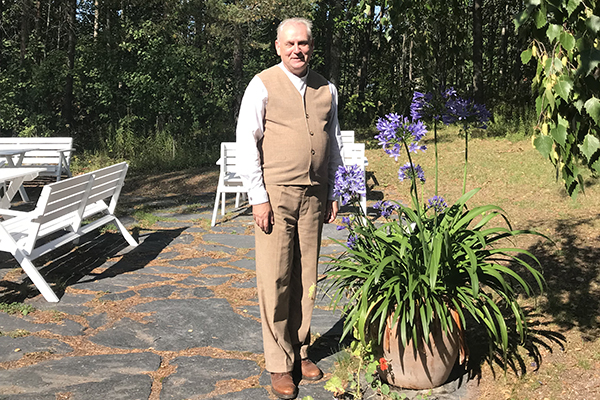 [:]